Looking for a great set of headphones? As far as we're concerned, the Sony WH-1000XM5 are the best headphones for most people. With a new, more comfortable design and slick appearance, plus continued improvements in noise-canceling, call quality, sound quality, and charging speed, Sony leaves almost no box unchecked when it comes to headphone perfection.
If you're looking for some alternatives, we have you covered there, too. We've picked out a number of other excellent headphone models, each with its own specific strengths, whether they're for use during a workout or merely to keep you from giving your credit card too much of a workout.
Sony WH-1000XM5
The best headphones, period
Pros
Excellent sound
Very good comfort
Ultra-clear call quality
Best-in-class noise canceling
Very good battery life
Hi-res compatible (wired/wireless)
Hands-free voice assistant access
Classy, modern design
Cons
Fold-flat, but don't fold up
Why you should buy them: Beautiful wireless sound, plush comfort, top-notch call quality, and excellent noise canceling.
Who they're for: Anyone who wants a top-tier wireless experience and loves silencing the world around them.
Why we picked the Sony WH-1000XM5:
Sony's technologically advanced WH-1000XM5 are the fifth generation of Sony's flagship wireless headphones. Like Sony's previous models, they offer top-tier noise canceling, excellent quality wireless audio, and plush comfort. This enticing combination earned the model a rare five-star rating in our review and — thanks to a series of continued improvements — maintains the WH-1000 series' status as the best headphones you can buy.
At the heart of the WH-1000XM5 is outstanding wireless sound. Though they use smaller drivers than their predecessors, they manage to produce a more refined and more detailed performance that trades big, in-your-face bass, with subtlety and nuance.
But the real stars of the show are the XM5's active noise cancellation (ANC) and call quality, both of which are class-leading. In an era where folks are spending almost as much time on Zoom calls as listening to music, these features matter and Sony knows it. So does comfort. The XM5 are both lighter and better balanced than the already-cushy XM4, and you'll have no problem wearing them for hours at a time without fatigue.
The XM3 and XM4 models compared well to Bose's Noise Cancelling Headphones 700, but now that we have the XM5, it's no contest. Sony's top-of-the-line cans outclass the Bose in every meaningful way.
Sony WH-1000XM5
The best headphones, period
Adidas RPT-02 SOL
The best for workouts
Pros
Durable workout-friendly design
Amazing battery life plus solar recharging
Great bass
Cons
No extra features like ANC
Why you should buy them: Workouts are sweaty affairs, and these headphones are built to handle it.
Who they're for: Athletes looking for a set of headphones that can keep up with their demanding routines.
Why we picked the Adidas RPT-02 SOL:
When it comes to true wireless earbuds for workouts, there are a lot of great options, like the Powerbeats Pro and Sony's WF-SP800N. But if you want a set of over-ear or on-ear headphones that are made specifically for workouts, you've got fewer choices. One of the best are the Adidas RPT-02 SOL.
While they may lack features like ANC, these headphones have major bonuses for outdoor use, like the removable and washable fabric covers for the ear cushions and headband. When it comes to workouts, sweat is just part of the territory. But most headphones aren't built for this reality, and they certainly aren't designed to absorb sweat. Adidas knows its customers aren't just out for a Sunday stroll, so the RPT-02 SOL can take whatever you throw at them.
That goes for their ability to handle rain, too. With an IPX4 rating, they'll easily deal with the occasional downpour if that's what your workout demands. Their light but strong headband frame will keep the RPT-02 SOL rock steady on your head.
But let's talk about the other big new feature the SOL model brings to the table: The ability to supplement your battery charge with solar energy thanks to the Powerfoyle headband covering. Adidas' already excellent battery life of 80 hours and audio performance are combined with solar charging. That's a nice plus, but not always needed.
The Adidas RPT-02 SOL are not the cans for discovering hidden details in your favorite tracks, but they score highly when it comes to deep, driving bass, that will give you the beats you need to push yourself just a little harder.
Adidas RPT-02 SOL
The best for workouts
Sennheiser Momentum 4
Best for audio purists
Pros
Amazing battery life
Outstanding sound
Effective wind noise reduction
Comfortable
Effective ANC
Why you should buy them: Incredible audio quality meets a lightweight, comfortable design.
Who they're for: Audiophiles with an ear for sound who want a great pair of ANC headphones.
Why we picked the Sennheiser Wireless Momentum 4:
Sennheiser has always been a reliable brand for a high-quality audio experience, but its outdone its past work with the Momentum 4, a pair of wireless headphones that don't skimp an inch when it comes to incredible sound supported by the aptX Adaptive codec. Our review even found that the audio was preferable to our top Sony headphones pick, the XM5s, despite the price actually being around $50 lower.
That may already be enough to convince the audiophiles out there, but let's go on: The upgraded Momentum 4 includes an incredible 60-hour battery, and a lightweight yet highly effective design with great passive noise cancellation. Don't worry, the headphones come with Active Noise Cancellation as well for canceling out background noises (at the expense of some battery life). Four beamforming mics also ensure you can take clear calls on these headphones if necessary.
If you really care about sound, you may also want to tweak audio settings to match your favorite genre or instruments. The Momentum 4 offers customization options, including basic presets as well as an integrated equalizer you can play with to create a sound profile that's just right. They may not have every feature in the book – touch controls and auto-off modes are lacking, and the three-band equalizer is a little simple – but those focused on pure audio will find that these headphones are made for them.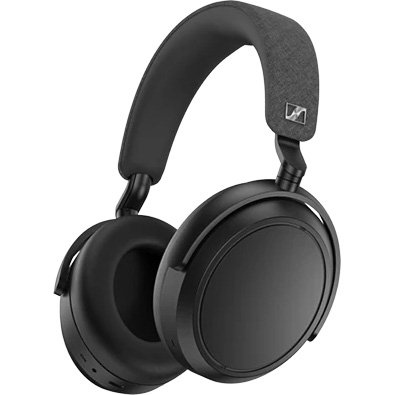 Sennheiser Momentum 4
Best for audio purists
Master & Dynamic MW75
Best money-is-no-object pick
Pros
Luxurious materials
Top-notch build quality
Incredible sound
Very good battery life
Digital wired connection
Wear sensor
Cons
Very expensive
Huge carrying case
Heavy
Annoying ANC mode switching
Why you should buy them: They offer high-end features in every way.
Who they're for: Buyers who want the best and don't care as much about the cost.
Why we picked the Master & Dynamic MW75:
If you're willing to drop some serious cash on a pair of elite headphones, you're probably looking for a pick that impresses on every level, from materials and design to audio quality and smart technology. Enter the latest Master & Dynamic model, the MW75, equipped with high-end specs at every level — if you're willing to pay for them.
The design of the MW75 includes lightweight earcups made with tempered glass and aluminum, a lambskin leather headband, and voluminous ear cushions for comfort. The material quality is superb and durable, but these headphones take up a lot of space, on or off your head, and they're not really designed for active movements while wearing them.
Sound quality via the 40mm Beryllium drivers is incredible, some of the best we've heard yet from headphones, with amazing precision that fits like a glove with technologies such as Dolby Atmos and related spatial audio tech. There's also an ANC mode to help keep environmental noise at bay, with different modes including MAX cancellation, All Day mode, or standard Adaptive. The battery provides a solid 32 hours that only goes down to 28 hours with the ANC enabled. There's also a useful wear sensor to help conserve battery life when not in use.
The MW75 isn't the most expensive wireless headset you can buy – that honor would go to the Mark Levinson No 5909. But the MW75 has many similar specs at a much more affordable price, as long as you're willing to pay laptop-level money to get it.
Master & Dynamic MW75
Best money-is-no-object pick
Apple AirPods Max
The best for iPhone
Pros
Best-in-class ANC
Amazing transparency mode
Excellent build quality
Excellent sound quality
Top-notch call quality
Cons
Charges via Lightning cable
Heavy on head
Why you should buy them: Class-leading ANC, transparency, and call quality, plus superb sound, in a beautifully designed set of wireless headphones.
Who they're for: iPhone users, who want the best money-is-no-object set of wireless headphones.
Why we picked the Apple AirPods Max:
At $550, the AirPods Max are expensive. But the design, materials, and build quality alone are almost worth the price of admission. The aluminum earcups and stainless steel headband sliders feel fantastic in your hands, and all of the parts move together with invisible, clockwork-like precision. The mesh fabric on the unusually-shaped headband all but eliminates pressure points and the ear cushions provide ample comfort.
The digital crown, which Apple repurposed from the Apple Watch, is surprisingly effective as a combo control that lets you adjust volume with much better precision than a set of buttons. The dedicated ANC/transparency mode button is equally intuitive and easy to use.
Speaking of ANC and transparency, Apple has knocked these features out of the park. Our reviewer found that the transparency was so good, it felt like he wasn't wearing the headphones at all. That's also an apt description for the head-tracking spatial audio that you can do with these cans when they're paired to an iPhone or an Apple TV 4K — it's like sitting in full surround sound home theater, but without any actual speakers.
Sound quality can't quite match what you'll get with the Sony WH-1000XM5, but there's no denying the AirPods Max are a delight to listen to.
The included carry case is one of the few weaknesses. It doesn't fully protect the headphones and it doesn't help you pack them in a backpack or suitcase. You may want to consider one from our best AirPods Max accessories post. There are even ones that push the AirPods Max into its ultra-low-power mode.
Speaking of power, at 20 hours, the AirPods Max won't win any endurance prizes, but that's still enough juice for all but the longest of flights.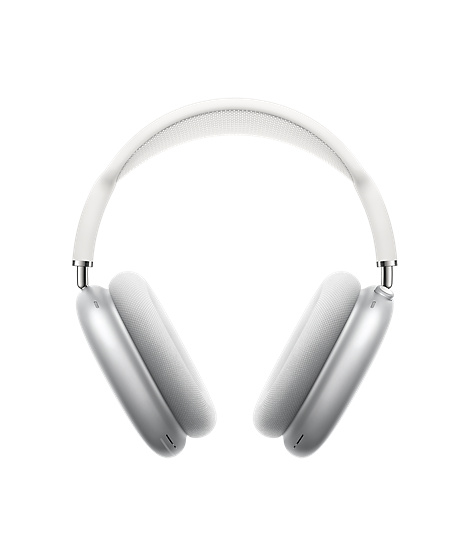 Apple AirPods Max
The best for iPhone
Shokz OpenRun Pro
Best for running
Pros
Light, comfy frame
Clear and open upper register
Fully water and dust resistant
Solid battery life
Open-ear design keeps you safe
Cons
Lacking in instrumental definition
Weak bass response
Minor fatigue over long listening periods
Why you should buy them: The lightweight bone conduction design keeps your ears open.
Who they're for: Runners and others who like to hear environmental sounds.
Why we picked the Shokz OpenRun Pro:
If these interesting headphones look a little familiar, you may recognize them from when they were called Aeropex (as our linked review describes). The model is very similar, except the packaging is upgraded and a new quick charge feature is enabled so you can power up these headphones quickly before a run.
But let's talk about that design: The OpenRun uses 8th-gen bone conduction technology, which transfers audio via vibrations through your facial bones. Fortunately, bones near your ears really are good conductors of sound, so the audio is quite good. The advantage is that your ears are always open to nearby traffic, joggers, announcements, etc., without having to constantly switch to a transparency mode. And it works! The latest design in particular offers bone conduction without a too-tight fit.
Additionally, the OpenRun headphones have IP67 waterproofing, so while you won't want to wear them swimming you don't have to worry about the rain. The lightweight design includes eight-hour battery life, and they're available in several different colors.
OpenRun isn't for everyone, but runners who like to keep their ears (literally) open and others who prefer to hear background noise will really appreciate this tech — especially since you don't have to empty your entire wallet to buy them.
Shokz OpenRun Pro
Best for running
SteelSeries Arctis Pro
The best for gaming
Pros
Multiple versions, each with a wide range of supported platforms
Doesn't require extra software or drivers
Hi-res audio performance
Very comfortable
Sleek, minimalist design
Gaming headsets abound, all offering big sound, noise-canceling mics, and great chat features. But we keep returning to the SteelSeries Arctis Pro. Gaming sound still doesn't get much better than this, the price is reasonable considering how high costs can go, and they offer all the game-friendly features you could want.
Supported by DTS Headphone X:v.20 surround sound and high-density neodymium drivers, the Arctis Pro have phenomenal environment sound with a wide frequency range, ideal for audio cues while playing or just enjoying the atmosphere in your favorite game. Talking with other gamers greatly benefits from the USB chat mix to quickly adjust balance, and the clear cast retractable mic includes background noise cancellation. That's all bound up in a durable, very comfy design complete with silicone side grips.
If you're looking for a bit more, there are a few different versions of the Arctis Pro, including both a wired and wireless option, as well as the Nova Pro that comes with a GameDAC for even more audio adjustments and optimization.
SteelSeries Arctis Pro
The best for gaming
1More SonoFlow
Best budget headphones
Pros
Great sound quality
Very comfortable for long periods
Ridiculous battery life
Solid ANC performance
Great app support
Affordable price
Cons
No wear sensors
Wired mode disables extra features
Why you should buy them: These budget headphones don't disappoint while still letting you save.
Who they're for: Buyers who want to save money on headphones but are loathe to give up great features.
Why we picked the 1More SonoFlow:
Scanning the most popular headphones can feel depressing on a budget. Top picks like the AirPods Max or the Sony WH1000XM5 (both of which won spots on our list) cost hundreds of dollars to get all their fancy features and audio upgrades. But if you're looking for a model that's $100 or less, you'll be surprised just how little you have to give up with this affordable powerhouse from 1More.
The wireless SonoFlow have all the features that you want, including ANC, support for high-res formats like LDAC, an EQ with plentiful presets, and generally impressive audio with their 40mm DLC dynamic drivers. We also like the comfortable, lightweight design, which makes wearing these headphones for hours at a time a painless experience.
The battery is also incredible, with up to 70 hours of playback time (without ANC) on one charge, and 50 hours with ANC on. We're seriously impressed with just how much is packed into the SonoFlow headphones at such a reasonable price, making them the top option for buyers on a budget.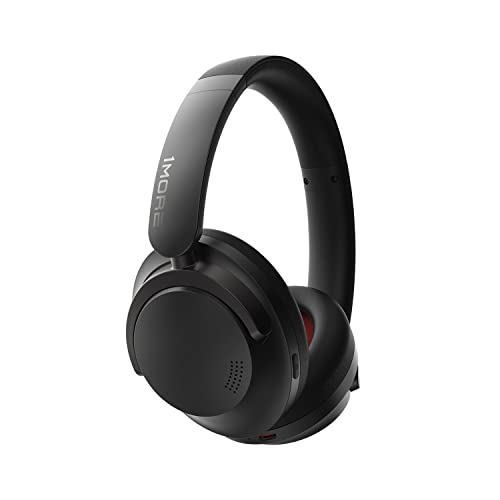 1More SonoFlow
Best budget headphones
PuroQuiet On-Ear Active Noise Cancelling Headphones
The best for kids
Pros
Effective noise cancellation
Volume-limiting (85db)
Great size for kids' heads
Good sound quality
Very good battery life
Cons
A bit pricey for kids' headphones
Why you should buy them: The PuroQuiet protect your kids from dangerously loud sound levels while they cancel out external sounds.
Who they're for: Parents who want to provide their kids with high-quality headphones, without exposing them to loud sounds.
Why we picked the Puro PuroQuiet:
Noise cancelation for kids? Doesn't that mean they'll ignore their parents even more often than they already do? Perhaps, but it's a risk worth taking if it means your kids' hearing will be protected over the long term. That's exactly the premise behind the Puro PuroQuiet headphones.
Not only are they wireless and great-sounding, but they also come equipped with a software limiter that keeps the volume at or below 85dB, which is considered the maximum volume that anyone (but especially children) should be exposed to for prolonged periods. Above that threshold and kids risk developing noise-induced hearing loss (NIHL). The noise-canceling feature means they'll actually be able to listen to lower (therefore safer) volumes.
These headphones pack about 35 hours of non-ANC playtime (23 hours with ANC) which is very good even by adult ANC headphone standards, but there's also the option of using an analog cable instead. An external switch lets you turn the noise cancellation on and off. Make no mistake, these might be aimed at kids, but the quality of construction, selection of materials, and color choices give them an appearance that will still appeal to your young charges long after they've outgrown their Disney phase (some of us still haven't).
While not the cheapest kids' headphones you can buy, the Puro PuroQuiet are very reasonably priced for what they offer. We think your kids' ears are worth it.
Like the idea of the PuroQuiet but need something more adult-sized? Check out the PuroPro. Want volume-limiting without active noise cancellation? Check out the Happy Plugs Play.
Read our PuroQuiet impressions
PuroQuiet On-Ear Active Noise Cancelling Headphones
The best for kids
Frequently Asked Questions
Who makes the best headphones?
There are a ton of manufacturers currently making awesome headphones, from major brands to smaller boutique outfits, so there is no clear winner when it comes to the best company in the headphone world. Some of our current favorite brands include Sony, Sennheiser, SteelSeries, and Apple.
What's the best place to buy headphones?
We typically recommend buying from a major retailer like Amazon, Best Buy, or Walmart. But smaller, more specialized local audio retailers might have a set of headphones that you can actually try, which is the ideal way to buy these personal audio gadgets.
Over-ear/On-ear headphones vs. earbuds: Which is better?
That depends on what you're using them for and how much you're willing to spend. At the high-end, over-ear and in-ear headphones can both perform fantastically. For those of us not willing to spend thousands on headphones, over-ear headphones typically offer better bass response and a bigger soundstage, but in-ear headphones are more portable and convenient — especially wireless earbuds. And, because they're placed right up against (or even inside) your ear canals, they offer the most intimate sound quality you can get, though not everyone likes that inside-your-head sound.
What type of headphones are best for working out?
Either wireless headphones, like the Adidas RPT-02 SOL, or true wireless earbud models, both of which feature sweat proofing, are far and away the best headphones for working out because you'll never have wires to deal with. These workout-specific models also put an emphasis on low-end bass, which lets you feel the rhythm of your chosen tracks.
What headphones should I buy if I don't want others to hear?
Closed-back over-ear headphones or snugly fitting in-ear headphones are the best way to ensure your favorite tunes won't leak out into the world around you.
How does active noise-canceling work?
Headphones with this feature use exterior microphones to capture the sound around you. They then reproduce matching frequencies with their phase inverted to cancel ambient noise. How well the system works depends on a wide variety of factors from software to hardware to how well the headphones fit.
Do any headphones use a Lightning connector? Or USB-C?
Yes, you can find both Lightning and USB-C headphones on the market, but given that you might want to use your headphones with something other than a cell phone, we typically recommend you buy an adapter or wireless headphones, rather than headphones with such a specific kind of connector.
Do headphones include a microphone?
These days, virtually all wireless headphones and earbuds include a built-in microphone. That said, some wired models rely on a cable with an inline microphone, while others possess no calling features at all, so be sure to check before you buy if you want to make phone calls.
Do headphones have audio lag?
Some lower-quality wireless models do lag when watching movies and YouTube on your cell phone, but in the vast majority of cases, they do not have audio lag. If you experience lag and your headphones have a companion app that lets you adjust EQ, try disabling those adjustments. Wired headphones won't have any audio lag at all, and most Bluetooth models have such a small lag it's mostly imperceptible.
How do you test?
We test headphones and earbuds the way normal people live.
We run every pair through a rigorous testing process over several days or weeks. That includes playing them in all sorts of scenarios -— be it on a bus, in the listening room, or at the office — and playing back from a wide array of sources. We know most people use their headphones with a smartphone, often with lower-quality MP3 resolution tracks, so we do, too.
However, we also move up to high-resolution audio files, as well as a wide variety of sources, including plugging in directly to a PC or Mac, using USB DACs (digital-to-analog converters), and employing high-quality, dedicated portable players and amplifiers. Finally, we compare the headphones to some of our go-to models, both in their class and price point, as well as a level or two above to find out if they can punch above their weight.
Shopping on a budget? Here's a look at the best headphones under $100. Looking specifically for wireless earbuds? These are the best true wireless earbuds overall, and these are the best noise-canceling true wireless earbuds.
Editors' Recommendations