Even the best TVs can only offer so-so sound. But going with a full-on home theater system can be a pain in the you-know-what, with complex setups and lots of wires. The best in-between option for folks who like to keep things simple is a soundbar.
Some soundbars come with lots of extra speakers. Some are terrific for music. Still others manage to get the job done on a shoestring budget, without even so much as a wireless subwoofer. But when it comes to sheer versatility and performance, the Sonos Arc is the whole package.
It's compatible with Dolby Atmos, it has room-filling sound, it's expandable, it doubles as a smart speaker, and there's nothing like it on this list when it comes to multiroom audio. It's certainly not the cheapest soundbar you'll find, but once you consider its many strengths, it's hard to deny the value Sonos provides with the Arc.
That's not to say it's the only soundbar out there worth your hard-earned cash, though. Far from it, in fact. We've stocked this list with multiple other recommendations for you to check out, separated into the areas in which they excel, so you'll have plenty of options to find the right soundbar for your setup and preferred media.
Sennheiser Ambeo
The best money-is-no-object soundbar
Sonos Arc
The best overall
Pros
Excellent surround sound
Easy and simple setup
Decent Dolby Atmos from a single speaker
Choice of Alexa or Google Assistant
Cons
No HDMI inputs
Not ideal for all music genres
Why should you buy it? It's a thrilling combination of Sonos functionality and impeccable Dolby Atmos sound.
Who's it for? Anyone looking for premium home theater sound wrapped in Sonos' signature simplicity.
Why we picked the Sonos Arc:
At the risk of sounding too sensational, the Sonos Arc embodies everything Sonos is about. It's incredibly easy to set up and use, it provides great sound, and it seamlessly incorporates itself into your larger network of whole-home Sonos sound. With all of that packed in, it would have been easy for Dolby Atmos to be an afterthought.
Quite the contrary, as it turns out. The Arc uses up-firing drivers to re-create Dolby Atmos sound, and while it doesn't completely blow you away, the execution is incredibly effective. The Arc adds a solid sense of 3D space to action-oriented films like Avengers: Endgame and Ford v Ferrari, bringing the sounds of roaring cars and interplanetary battles to life in stunning form.
The Atmos goodness doesn't stop there. If you have an Amazon Music Unlimited account, you can stream Dolby Atmos Music tracks from within the Sonos app. And if you have an Apple TV or Nvidia Shield, you can also stream Atmos Music from Tidal or Apple Music from their respective apps, and pipe them through your TV to the Arc.
Like the Sonos Playbar before it, you can easily expand the Arc's home theater capabilities by adding other Sonos speakers as surround satellites, plus you now have two choice for low-frequency effects: the magnificent — if very expensive — Sonos Sub and the new, smaller Sub Mini.
It's also a smart speaker, with three choices of voice assistant: The bare-bones but super useful Sonos Voice Control, for Sonos-only functions, or Alexa and Google Assistant, which can control Sonos products and much more, too.
But what really pushes the Arc to the top of our list is how versatile it is for non-TV listening. The Sonos app gives you an incredible amount of control over the Arc (and any other Sonos speakers in your home), as well as streaming music sources. Whether it's a playlist from Spotify or a track buried deep in your personal music collection, the universal search feature makes it a snap to find.
Did we mention the Arc is also an AirPlay 2-enabled speaker? For Apple users, this is a much better option than Bluetooth, as it preserves more of the sound quality.
It's worth noting that unlike some soundbars on this list, the Arc does not have any HDMI inputs. So when you connect it to your TV's HDMI ARC port, you will be losing an HDMI input on your TV. For those with only one or two video sources, this isn't a problem, but others may have to make some tough choices — or buy an HDMI switch.
If having an HDMI input is important to you, we highly recommend spending an extra $100 on the Sony HT-A5000. It might not have the Arc's multiroom and music streaming chops, but it has superb sound quality, with even better bass than the Arc thanks to its built-in subwoofer.
Right now, the Bose Smart Soundbar 900 is probably the closest competitor to the Sonos Arc. With an almost identical feature set and price, it's an excellent alternative.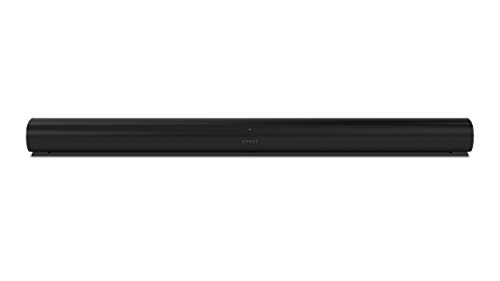 Sonos Arc
The best overall
Vizio M-Series AiO (M213ad-K8)
The best soundbar for $200 or less
Pros
Great fidelity for the price
Excellent dialogue clarity
Wide soundstage
Ample bass
Good dynamics
Cons
No perceived Dolby Atmos effects
Why should you buy it? It's affordable, it's a breeze to set up, and it delivers stellar sound for the money.
Who's it for? Anyone looking to give their TV a big sound upgrade with a modest investment.
Why we picked the Vizio M-Series AiO (M213ad-K8):
When you get right down to it, people buy soundbars because they want better sound from their TV, but they're not interested in all of the convoluted wiring, settings, or the expense involved in going with a full home theater system. And when it comes to delivering on that goal for the least amount of money, Vizio's 2023 M-Series AiO is a slam-dunk.
It starts with a single speaker, which is compact and understated — no flashy metal finishes or exposed drivers — just an elegant trapezoid wrapped in dark gray fabric. Getting it connected is a cinch — just plug it into your TV using the included HDMI cable or you can use your own optical cable. That's it.
The included remote makes it easy to control (or thanks to HDMI eARC, you can control it with your TV remote), and if you own a Vizio TV, all of the key settings will be merged into your TV's on-screen menus, which is a great addition, and something you rarely see on any soundbar regardless of price.
Dialog — the key to being able to enjoy any movie or show to its fullest — is crisp and clear, so you won't be leaning across to your friends and family to whisper, "What did she just say?" And the rest of the M-Series' audio chops are just as impressive, especially the bass response, which surprised our reviewer with its power. In his estimation, it's better than what many cheaply-built wireless subwoofers offer, so you won't miss that extra black box at all.
You get an HDMI input, which is always a nice thing to have on a soundbar, and the M-Series has a special trick up its sleeve for folks who want to wall-mount it. Sensors inside automatically reconfigure the tuning of the drivers to ensure you get the best sound, even when the speaker is oriented with its top facing you.
There's only one real caveat with the M-Series AiO: Despite being labeled as Dolby Atmos-capable, our reviewer wasn't able to discern much in the way of a 3D sound experience when listening to Atmos content. Is it a deal-breaker? No — at this price, we don't expect any Dolby Atmos soundbar will perform significantly better. If Dolby Atmos on a budget is your goal, check out the Vizio M-Series 5.1 soundbar (M51a-H6/M51ax-J6) farther down on this list.
Vizio M-Series AiO (M213ad-K8)
The best soundbar for $200 or less
Sonos Beam (Gen 2)
The best small soundbar
Pros
Easy setup
Immersive, room-filling sound
Sleek design
AirPlay 2
Cons
No HDMI inputs
Requires compatible TV for Dolby Atmos
Why should you buy it? It delivers immersive surround sound and smart speaker capabilities in a compact and elegant package.
Who's it for? Those with small to medium-sized rooms who want a single speaker that does it all.
Why we picked the Sonos Beam (Gen 2):
The first Sonos Beam was one of the best small-sized soundbars you could buy, thanks to its great audio quality, simple setup, voice assistant compatibility, and Sonos' excellent multiroom audio software. With the recently released second-gen Beam, Sonos has kept that proven formula but improved what the Beam can do by giving it virtual Dolby Atmos.
What does that mean? Thanks to a more powerful processor, the Beam (Gen 2) can use software to deliver much more immersive sound from the same internal audio components as its predecessor. That sounds like hype, but it's not — when you connect the Beam (Gen 2) to a Dolby Atmos-capable TV, the soundstage has a much greater sense of width, depth, and even height. Of course, you'll need a source of Dolby Atmos content, but that's getting easier all of the time as streaming services like Netflix, Amazon Prime Video, Disney+, and Apple TV+ have all embraced it.
Sonos has added support for Dolby Atmos Music via Amazon Music Unlimited, which will give you a more immersive version of new songs and old classics. The same clever virtualized surround sound also helps non-Atmos content sound bigger and deeper.
The new Beam has a slightly new appearance. Now the gently curved speaker, which is available in black or white, features a grille made of plastic instead of fabric. Some folks may prefer the older design, but the new grille matches the rest of the Sonos speaker lineup and it's way easier to keep clean.
The only downside to the new Beam (other than its $50 price increase over the original) is its single HDMI eARC port. Sonos likes to keep things simple, which is why it made this decision on the Arc as well, but we wish there were at least one HDMI input, which would give folks more flexibility in terms of connecting devices.
Still, with AirPlay 2, your choice of Sonos Voice Control, Amazon Alexa, or Google Assistant, and compatibility with just about every music streaming service on the planet, it's easy to recommend the Beam (Gen 2) if you want great TV sound in a small and elegant speaker.
If you like the Sonos ecosystem and want an even more affordable soundbar option, the Sonos Ray costs less than the Beam, yet can still deliver pretty great sound to smaller rooms.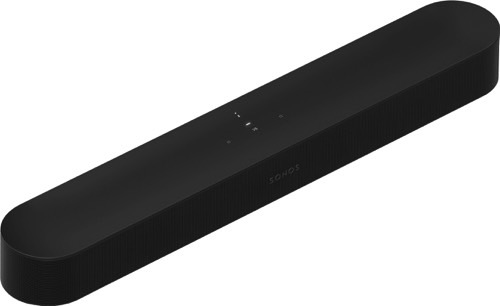 Sonos Beam (Gen 2)
The best small soundbar
Vizio P-Series Elevate
The best Dolby Atmos for under $1,000
Pros
Simple setup, clear chart showing connections
Wonderfully unique design
Deep control over sound output levels
Exceptionally clear dialogue
Cons
Effects dependent on room
Costly
Vizio appears several times on this list, and for good reason. The company has a huge (though sometimes confusing) array of soundbars at a variety of prices for every budget and room size. The P-Series Elevate is the company's flagship and it deserves serious consideration by anyone who wants an elegantly designed and powerful sound system for their TV.
The Elevate's signature feature is its rotating speaker modules. They sit at the ends of the soundbar and rotate from front-firing to up-firing whenever Dolby Atmos or DTS:X content is being played. When combined with the up-firing drivers embedded in the surround speakers, you get four height channels, for overhead sound effects that easily rival the more expensive LG S95QR. Better yet, all of those 5.1.4 channels are individually controllable, so you can easily tune the speakers to your space.
The included wireless subwoofer has a generous eight-inch driver and can reach as low as 30Hz, and has enough power to rattle your windows, even if it can't quite compare to the dedicated powered subs you'll find on more expensive component systems.
With two HDMI inputs and an HDMI ARC/eARC output, there's no problem with being able to attach external media sources, and Bluetooth is on tap for streaming music from your phone. The only thing missing is Wi-Fi, so there's no support for high-quality audio streaming from music services, no compatibility with AirPlay, Chromecast, or Amazon Alexa, and no multi-room audio.
Still, for the price, it's very hard to beat the P-Series Elevate for pure TV and movie immersion. The only thing that comes close is Vizio's own M-Series Elevate, which is $200 cheaper and lacks the P-Series' rear up-firing drivers.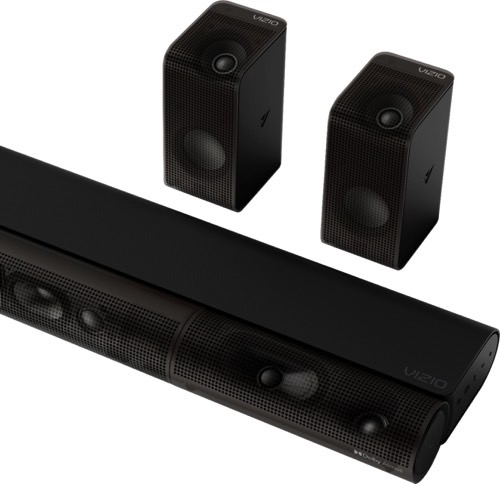 Vizio P-Series Elevate
The best Dolby Atmos for under $1,000
Sony HT-A5000
The best for music
Pros
8K-ready HDMI input
Excellent movie and music sound
Easy on-screen setup
Tons of connection options
Hi-res, Sony 360RA, and DTS:X
Cons
No EQ adjustments
Some settings are buried
Poor integration of music services
Why should you buy it? It's the Swiss Army knife of soundbars, with support for every kind of music format and connection.
Who is it for? Those who want a soundbar that can handle any music format you can throw at it.
Why we picked the Sony HT-A5000:
When it comes to music management and multispeaker playback, you really can't beat Sonos. The company's software is without equal. But, there's more to listening to music than managing playlists and searching for songs. So if you're looking for a soundbar that can do a terrific job with advanced music playback (in addition to movie and TV audio), we think the Sony HT-A5000 is the speaker to beat.
It starts with a very well-appointed (if somewhat plainly styled) soundbar, that packs its own built-in subwoofer. That driver is powerful enough that unless you're looking to shake your fillings loose, you probably don't need a dedicated sub. Sony's virtual surround technology does a very good job creating an immersive sound field when listening to Dolby Atmos or DTS:X content, but it does a surprisingly good job upscaling regular two-channel content too. But the A5000's secret sauce lies in its connections and audio compatibility.
With Wi-Fi, AirPlay 2, Chromecast built-in, and Bluetooth (send and receive), it doesn't matter what kind of device you're holding in your hand — you'll be able to stream its audio content in the highest possible quality to the A5000. Better yet, Sony has included support for a huge variety of audio formats and qualities, from the lowliest MP3 files all the way up to hi-res 24-bit/96kHz FLAC and DSD tracks. You can play these files from a USB storage device, your home network, or virtually any streaming service that supports HD audio like Tidal, Amazon Music, or Apple Music. Want to explore the worlds of Dolby Atmos Music and Sony 360 Reality Audio (360RA)? The A5000 has you covered there too.
Even Bluetooth — normally the lowest quality wireless audio link — has received an upgrade in the form of LDAC codec support. When connected to an LDAC-capable phone (mostly Android handsets), you'll get audio fidelity that almost rivals Wi-Fi.
That support for high-quality audio extends to the A5000's HDMI input. It can passthrough 8K, Dolby Vision, and 4K at 120Hz, which is awesome for future-proofing, but it's even better news for those whose TVs don't support HDMI eARC: You'll still be able to get the very best, lossless version of Dolby Atmos by plugging your Blu-ray player or Nvidia Shield TV into the soundbar directly, thereby avoiding the down-conversion that some older TVs will do to Dolby Atmos content.
Add to this Sony's excellent on-screen menus and setup process, auto-room calibration, and tight integration with Sony Bravia TVs and you've got a soundbar that easily justifies its admittedly high $1,000 price. The only thing we wish Sony had included is the ability to adjust the HT-A5000's sound EQ parameters.
Sony HT-A5000
The best for music
LG S95QR 9.1.5 Channel Soundbar
The best home theater replacement
Pros
Impressive Dolby Atmos sound
Plenty of app-based settings
Two HDMI inputs
Hi-res music support
AirPlay and Chromecast built-in
Cons
Bass lacks some rumble
Poor instructions
No way to save preferred settings
Why should you buy it? You want all of the power and performance of a dedicated home theater system, but none of the hassles of buying and installing all of those components.
Who is it for? Those with medium-to-large TV rooms who want a no-compromises Dolby Atmos/DTS:X system for movies, shows, and music.
Why we picked the LG S95QR:
Though certainly not the most affordable option on this list, LG's S95QR proves its value by being the closest thing you can get to a full-fledged home theater system in a soundbar.
Its secret is its massive number of speakers and supported channels. The main soundbar alone is an 8-channel monster, complete with three up-firing drivers. But then add in the wireless subwoofer, and the two wireless surround speakers (each with its own up-firing driver and two full-range angled drivers), and you're now up to a 9.1.5-channel system and you will, quite literally, be surrounded by sound.
But despite that awesome power, it's still a soundbar at heart and thus super simple when it comes to getting it set up. Plug each speaker into power, plug the main soundbar into your TV, and voila! Instant cinema sound. You get two HDMI 2.1 inputs with 4K/HDR/Dolby Vision passthrough, so even if your TV's HDMI ports are full, or it doesn't support Dolby Atmos, you're covered: just plug a streaming device or game console into the S95QR and you've got the best sound and video on tap.
With Wi-Fi connectivity, Apple AirPlay 2, Chromecast built-in, and Alexa compatibility (plus Bluetooth, naturally), there's an almost unlimited number of ways to stream music to this system, and it supports lossless, hi-res audio formats too — including Dolby Atmos Music.
It can be a bit daunting to work your way through all of the menus and options, but LG's Sound Bar app for iOS/Android makes the task a bit easier. When it's all dialed in, you'll be thrilled with the sound. This is as close as a single product in a box can get to a fully installed component system.
If it's a home theater replacement you're after, we also strongly recommend you check out the Klipsch Cinema 1200, an absolute beast of a system that packs enough power to put many AV receiver-based setups a run for their money.
LG S95QR 9.1.5 Channel Soundbar
The best home theater replacement
Vizio M-Series 5.1 soundbar (M51a-H6/M51ax-J6)
The best budget soundbar
Pros
eARC, Dolby Atmos, DTS:X support
Impressive subwoofer
Seamless surround effects
Comprehensive control
Excellent fidelity
Cons
One HDMI input
Less suitable for larger rooms
Why should you buy it? The Vizio M-Series delivers immersive surround sound at a shockingly low price.
Who's it for? Those with smaller rooms who want the best sound quality for the lowest possible price.
Why we picked the Vizio M-Series M51a-H6:
Our previous pick for this category was another Vizio TV model — the V-Series V51-H6. And while we're still bullish on that soundbar, Vizio's M-Series packs even more features and better sound for just $50 more. And as far as we're concerned, that's $50 very well spent.
The M-Series looks like a typical soundbar at 36-inch in length, and its 6-inch wireless subwoofer looks like many others. But what helps this model stand apart is its versatility.
If you have a medium-to-large room, you can place the subwoofer toward the rear of the space which lets you position the wired surround modules behind the viewing area. But if you've got a smaller space, you can put the sub near the front, and the surround speakers can be used from the front too — the M-Series will automatically calibrate the system to give you the best sound possible.
Our reviewer noted that one of the M-Series' strengths is its ability to process lower-frequency sounds, like a deep, gravelly-voiced announcer, without having it sound like they're being generated by the subwoofer — something that cheaper systems typically do.
With support for both virtualized Dolby Atmos and DTS Virtual:X, you may not get quite the jaw-dropping overhead sounds that you'll find with up-firing soundbars like the Arc or the Ambeo, but it's a much more immersive experience than a traditional 5.1 setup.
Because of its HDMI eARC port, the M-Series can support much higher bandwidth, lossless hi-res audio when connected to a compatible TV. An extra HDMI input means that you're not forced to give up an input on your TV.
Its auxiliary port is ideal for plugging in an Alexa or Google smart speaker. When you do, they can play any requested content through the soundbar and reduce the volume of your TV sound when they answer your question, bringing it back up when they're done.
There's also the usual complement of connections, including Bluetooth, optical in, and a USB port for removable drive-based audio files.
All of the M-Series' settings — of which there are many — can be controlled from the included remote, which has an embedded LCD screen to help you navigate the myriad options.
The only real caveat with the M-Series (which we noted about the V-Series too) is the lack of Wi-Fi. This means you can't stream music to it via AirPlay or Chromecast, and it can't be controlled via voice assistants like Alexa and Google Assistant. But that one aspect notwithstanding, the  Vizio M-Series is an outstanding choice for anyone who wants fun, room-filling surround sound without breaking the bank.
Vizio M-Series 5.1 soundbar (M51a-H6/M51ax-J6)
The best budget soundbar
Zvox AV157 TV Speaker
The best for dialog enhancement
Pros
Small footprint
Easy connections and setup
Super-clear and adjustable dialog
Cons
Expensive for a small speaker
No wireless connections for music
Why should you buy it? With 12 levels of speech enhancement and enough oomph for movies, it's an ideal TV companion.
Who's it for? Those who normally find it difficult to hear voices on TV, especially those with hearing impairments.
Why we picked the Zvox AV157 TV Speaker:
Several Zvox speakers help with enhancing the clarity of TV dialog, but none possess the power and versatility of the AV157.
The AV157 packs six levels of Zvox's AccuVoice technology for speech enhancement and an additional six levels of its SuperVoice tech for a huge range of assistance for those who are hearing-impaired or who just struggle to separate speech from other sounds.
For a deep dive into how the AV157 does its speech enhancement magic, check out this full explainer, but here's what you need to know: The Zvox AV157 doesn't just make things louder, it selectively increases the dynamic range of vocal sounds, while simultaneously decreasing all other types of soundtrack audio.
The 12 levels of AccuVoice and SuperVoice determine how pronounced this effect is. At its most powerful, the AV157 can deliver speech so clear and precise, it's almost painful. But for those who suffer from hearing loss, it will be a pleasure.
But better dialog is only the beginning. The AV157 is also a surprisingly capable movie and music speaker too. Turn on the surround sound mode and it does a decent job with all kinds of immersive soundtracks.
Bass performance doesn't quite measure up to full-size soundbars, but it's solid and well-balanced. Should you want to get a bit more rumble, you can add an external wired subwoofer using the analog sub-woofer output.
Connections are modest: You can use an optical cable or an analog cable to connect the AV157 to your TV, and there's no Bluetooth or Wi-Fi. But this keeps things simple and you won't have to give up an HDMI port just to get better sound from your TV.
The included remote is also a simple but effective device, with large, easy-to-press, and clearly labeled buttons.
If you're tired of relying on subtitles to understand what your favorite actors are saying, the Zvox AV157 is a perfect TV companion.
Zvox AV157 TV Speaker
The best for dialog enhancement
Research and buying tips
Why are soundbars so popular?
They offer a small footprint, they're affordable and easy to set up, and they sound much better than the speakers built into most TVs.
Are soundbars any good?
Some of them are, some of them aren't. That's why we recommend reading reviews and best-of lists like this one.
How do soundbars work?
Virtually all modern soundbars connect to your TV via digital connection either with an optical or HDMI cable. The latter is generally preferred for TVs with HDMI ARC or eARC, as it allows for better sound and control of basic functionality with your TV remote. For Dolby Atmos, an HDMI connection is a prerequisite.
Can soundbars be controlled by a TV remote?
Some of them can be, yes. See the above for information about HDMI ARC.
Can soundbars be mounted on a wall?
Yes, many come with mounting brackets in the box, but almost all have optional wall-mount solutions you can buy later.
Can soundbars be mounted above a TV?
Technically yes, but we usually recommend mounting them below the TV. In general, we recommend you get them as close to ear level as possible for the best sound.
Are soundbars wireless?
Some are, but they generally come with brand restrictions. The TCL Alto R1, for instance, connects to TVs wirelessly, but it only works with Roku TVs. Samsung and LG both offer models with "wireless Dolby Atmos" but again, it only works with flagship Samsung and LG TVs respectively. Sony's HT-S400, HT-A5000, and HT-A7000 can do the same thing with select Sony Bravia TVs.  All other kinds of TVs need a cable. The majority of soundbars connect via HDMI ARC/eARC or an optical cable.
What about Wi-Fi and Bluetooth?
Most new soundbars do have this sort of wireless functionality. This typically allows you to stream music from your smartphone or home network directly to the soundbar. If a soundbar is also a smart speaker (e.g. Sonos Arc, Bose Soundbar 700) it will be Wi-Fi equipped.
Wi-Fi is generally preferable to Bluetooth for music streaming as its higher bandwidth supports higher quality formats like lossless FLAC, ALAC, WAV, and others. See the above question for wireless functionality with your TV or receiver.
Do soundbars always have a separate subwoofer?
No, not always. Some are built without them purposefully to save space. If they contain built-in subwoofers they can still deliver surprisingly strong bass, but most rely on a wired (or wireless) subwoofer for low-frequency sound.
Do soundbars support Alexa? Google Assistant? Siri?
Yes, but in slightly different ways. Some soundbars can double as smart speakers. The Sonos and Bose family of soundbars give you a choice of Google Assistant or Alexa. Other brands/models (like the Yamaha YAS-209) only support one voice assistant. We aren't aware of any soundbars that give you direct access to Siri.
Soundbars can also be voice assistant-compatible, which means that you'll be able to use one or more voice assistants to control the soundbar if you already own a smart speaker or some other way to issue voice commands. Several soundbars can be added to Apple HomeKit, which lets you control them via Siri.
Still other soundbars, like Vizio's family of products, have dedicated smart speaker inputs so you can wire a Google Nest Mini or Amazon Echo into the soundbar. This lets the soundbar understand when you are trying to talk to your assistant, and it can lower the speaker volume automatically while letting you hear the assistant via the higher-quality soundbar.
Does Apple make a soundbar?
No, but Apple's HomePod mini (and discontinued HomePod) can act as soundbar replacements if you also own an Apple TV 4K. You can use a first-gen Apple TV 4K to hear streamed content through these speakers, while the second-gen Apple TV 4K (2021) adds HDMI ARC, which means a paired HomePod or HomePod mini can play your TV's audio too.
How we test
After giving a soundbar a thorough break-in period, we put it through a rigorous testing process that includes playing all relevant sources of content, including the latest Blu-rays with the highest-resolution codecs from the likes of Dolby and DTS, as well as audio straight from a TV via HDMI and/or Optical output, including streaming services, broadcast TV, and audio apps. When relevant, we test wireless connections for stability and audio quality. We also place a high degree of importance on the musicality of any speaker, so plenty of music is played to gauge its finer performance aspects. Finally, we compare each soundbar with others at, above, and below its price/features class, and with similarly priced alternative sound solutions.
If you're still in need of guidance after perusing all the above picks, check out our expert guide to picking the right soundbar.
Editors' Recommendations