Whether you're an aspiring DJ, discerning record collector, or Liam Neeson action-flick devotee, there's one thing that unites these parties: a pair of speakers. From home theater juggernauts to the beat-layers of modern music, speakers are the A-to-B audible synapse between creation and consumption, and there's a set of bookshelves or floor-standers for every need and niche.
But choosing a set of speakers is no easy task. With so many new and legacy speaker brands to choose from, being spoiled for choice can be an obstacle. Big considerations must be given to things like budget, what audio components you have or will be pairing with your new best friends, and what kind of space you'll be putting this high-tech hi-fi into (more on this in our FAQ section at the bottom of the post).
As dedicated audio experts, we've worked through countless hours of researching, comparing, and testing to bring you this roundup of the best speakers you can buy right now.
KEF Q750
The best tower speakers you can get for the price
Pros
Uni-Q tech delivers robust three-dimensional sound
Articulate, near-distortion-free sound profile
Astonishing price-to-performance ratio
Sleek and stylish design
Cons
Not ideal for smaller rooms
High frequencies may be too bright for some
Why you should buy them: You want an awesome set of tower speakers for all of your movie and music needs, and need to keep the price under $2,000 for the set.
Who they're for: Those looking for rock-solid, all-purpose floorstanding speakers with a modern look and excellent performance.
Why we picked the KEF Q750 Floorstanding Speakers:
When it comes to a perfect set of speakers for the modern age of listening, KEF is a powerful name that comes up again and again. Earning laurels left and right, the idea behind a set of KEF cabinets and drivers is ultra-stylized, high-performance equipment that kicks down the doors of every music and film genre they're tasked with tackling.
This leads us to the KEF Q750: the tower speakers built for all of your listening needs. Available in black, white, and walnut finishes (with magnetized grilles sold separately), the Q750 is engineered from the ground up to dig out the details in your hi-fi system that other speakers simply can't touch.
Featuring the amazing Uni-Q driver array that seats the tweeter in the center of the midrange cone, KEF's idea for this placement choice is to unify the acoustics in a way that maximizes three-dimensional sound-staging like never before. While this bit of phrasing gets thrown around in the audio space all too often, let's just say the Q750 will truly make you feel like you're at a live concert or seated in a movie theater.
On top of an enhanced woofer design that adds additional layering to both the midrange and low-end spectrums, the KEF Q750 are built for the kind of stellar sonic experience that you'd normally be paying another $1,000 (or more) for.
While a pair is still going to run you close to $2,000, trust us — it'll be the best money you've ever spent on audio.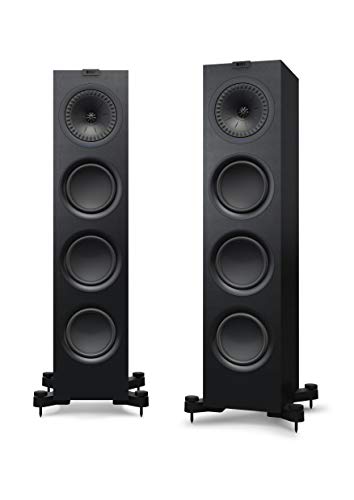 KEF Q750
The best tower speakers you can get for the price
Klipsch Synergy Black Label B-200
Mighty bookshelves for movies and music
Pros
Affordable price
Diverse use for stereo and home theater
Accurate sound reproduction
Cons
Soundstage could be better
Why you should buy them: You're after great sound for movies and music, and you're shopping modestly.
Who they're for: Those who want a smaller set of speakers without compromising on sound quality or breaking the bank.
Why we picked the Klipsch Synergy Black Label Bookshelf Speakers:
Looking for an inexpensive set of hi-fi speakers for that new record player/receiver combo? How about a decent pair of dedicated rear speakers to expand your surround system from 5.1 to 7.1? Whatever your need, Klipsch is a sure bet for top-shelf sound, and the Synergy Black Label bookshelves are perfect for your every need.
Featuring Klipsch's Tractrix horn drivers, the Synergy speakers are designed to disperse sound equally throughout whatever room you place them in. This is joined by Klipsch's aluminum-diaphragm compression tweeters and IMG woofers, delivering sharp and clear high frequencies with a well-rounded bass experience to fill out the bottom end. Versatile, articulate, and easy to integrate with existing speaker systems.
As a compact set of full-range speakers, the Klipsch Synergy Black Label Bookshelf Speakers make for the perfect upgrade path. You can start using them as the primary stereo pair for a small- to medium-sized room — perhaps with a connected amp like the Sonos Amp — and then migrate them as you build out a larger home theater setup.
Klipsch Synergy Black Label B-200
Mighty bookshelves for movies and music
SVS Prime Tower Surround System
Best surround sound speakers
Pros
Ruddy, authoritative bass
Airy, natural sounding upper register
Warm, yet luminous midrange
Elegant, stylish design (especially with gloss finish)
Excellent value
Cons
Center channel not quite as balanced as we'd like
Don't reach some of the deeper details of dialog and instrumental attack
Why you should buy them: Incredible performance, striking design, excellent stereo and surround performance.
Who they're for: Home theater enthusiasts who want gorgeous surround sound for their favorite flicks and audiophile-grade stereo for their best-loved tunes.
Why we picked the SVS Prime Tower Surround System:
If you're after the perfect blend of price, performance, and gorgeously detailed sound for your home theater space, there is no better option than the SVS Prime Tower Surround kit. A beautiful set of five speakers that easily ranks among our favorites in their class (and above), the Prime series will take your home audio experience to the next level.
Anchored by a set of audiophile-grade towers — which sound fantastic in stereo when not serving as part of the larger system — the Prime kit offers an immersive listening experience that is second to none at this price. Sound shifts fluidly between front, side, and rear, providing the kind of detail we typically expect to see in speakers that cost much more money. It is worth noting that the standard five-speaker kit doesn't come with a subwoofer. For the full, rumbling movie theater experience, we recommend adding one of the company's excellent options, like the PB-1000.
We think 5.1 systems are a perfect starting place for those looking to get into great home theater sound and a nice stepping stone to larger Dolby Atmos systems without the hassle of hanging speakers from the ceiling or investing in fancy up-firing speakers. Best of all, every speaker in the SVS Prime system can last through upgrades, rather than being the kind of thing you'll mothball when you decide to make the leap to a bigger setup.
And since SVS makes a variety of home theater speakers, finding well-matching sound signatures for eventual expansion won't be an issue. In fact, those looking to expand to Atmos can grab a set of the company's Prime Elevation Speakers (designed for the height element of object-based audio), to perfectly complement their traditional surround setup.
If money is tight and you just want excellent sound, the SVS Prime Tower Surround can be had for the lowest cost in simple black ash veneer. Those who really want to impress their friends and relatives can spring for an extra $250 for the piano gloss finish, which shines like a Steinway grand at Carnegie Hall.
SVS Prime Tower Surround System
Best surround sound speakers
JBL Flip 6
The best portable Bluetooth speaker
Pros
Solid build quality
Loud and clear sound
Lightweight and portable
Excellent water and dust protection
EQ offers some sound tweaking
Works with JBL Portable app and PartyBoost
Cons
Can't stereo pair with non-Flip 6 JBL speakers
Doesn't work as a speakerphone
Not drastically different from Flip 5
Why you should buy it: It's the best portable speaker around and has a rugged and waterproof body with pulse-pounding sound.
Who it's for: Frequent party hosts, travelers, and those that want big sound with limited real estate.
Why we picked the JBL Flip 6:
JBL has a great track record when it comes to delivering steadfast audio products that sound great and don't break the bank. The latest entry in the company's Bluetooth speaker lineup, the JBL Flip 6, is no exception to the brand's ongoing sound legacy.
Designed for rugged, grab-and-go usage, the Flip 6 sports an IP67 rating, making it ideal for pretty much any indoor or outdoor listening space, save for being submerged in a swimming pool. And in terms of sound quality, you can expect well-balanced soundstaging for all your favorite styles of music and podcasts.
While the Flip 6 still sorely lacks a speakerphone capability (also absent from the previous two iterations of the Flip series), for the fairly low price of $110, we're giving the JBL Flip 6 a solid two thumbs up.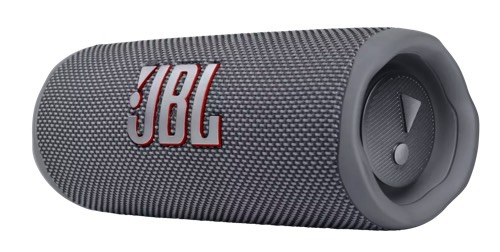 JBL Flip 6
The best portable Bluetooth speaker
KEF LS50 Wireless II
For the audiophile music streamer
Pros
Clean, bold sound
Easy to use
Wi-Fi, USB, and HDMI ARC inputs
Cons
Expensive
Lacks RCA input for turntables
Why you should buy them: Amazon for music, they're gorgeous, have an impressive sound, and no amplifier required.
Who they're for: The streaming music enthusiast who wants the best possible wireless sound.
Why we picked the KEF LS50 Wireless II:
Known for their gorgeous detail and flat response, the wired iteration of KEF's LS50 bookshelf speakers have long ranked among the most beloved compact speakers in the audiophile world. But since then, the company introduced an internally amplified wireless iteration in 2017 that now has a successor all its own.
KEF didn't have to go back to any drawing board because this new iteration carries over the power, precision, and beauty that made the LS50 Wireless a joy to look at and listen to. To make the LS50 Wireless II even more compelling, KEF chose to not just make corrective improvements, but also give the speakers a nice jolt for good measure. At the core of this update is a technology called Metamaterial Absorption Technology (MAT), which is a clever way of saying the speakers can absorb unwanted sound in the tweeter's rear so that it doesn't affect the forward output.
Controlled by a smartphone app, they support Wi-Fi streaming from your device's library, as well as Tidal, Spotify, Amazon Music, and Deezer. The Connect app can access Internet radio stations, and the speakers can play network audio at up to 24bit/192kHz resolution, including built-in support for both AirPlay 2 and Chromecast. There's even Bluetooth, plus a slew of wired inputs, including HDMI, optical, coaxial, USB-A, and RCA.
Each speaker contains two built-in amplifiers — one for the woofer, one for the concentric tweeter — that combine for up to 280 watts per channel. That's more than enough volume to blast music in all but the largest spaces and makes the LS50 II versatile enough to function well where some may have considered placing floor-standing speakers.
If you're looking for big sound without the hassle of outboard amplifiers, preamps, and other gear, there is no better option than the KEF LS50 Wireless II, though you can easily fill a room even further through their two subwoofer outputs. If you're hoping to save some money, the newer, smaller LS50 Meta is also a fantastic option (especially if you have a subwoofer).
With easier use cases, new colors to choose from, and even better sound quality, the KEF LS50 Wireless II are the kind of 21st-century speakers that you'll rave about for a long time to come.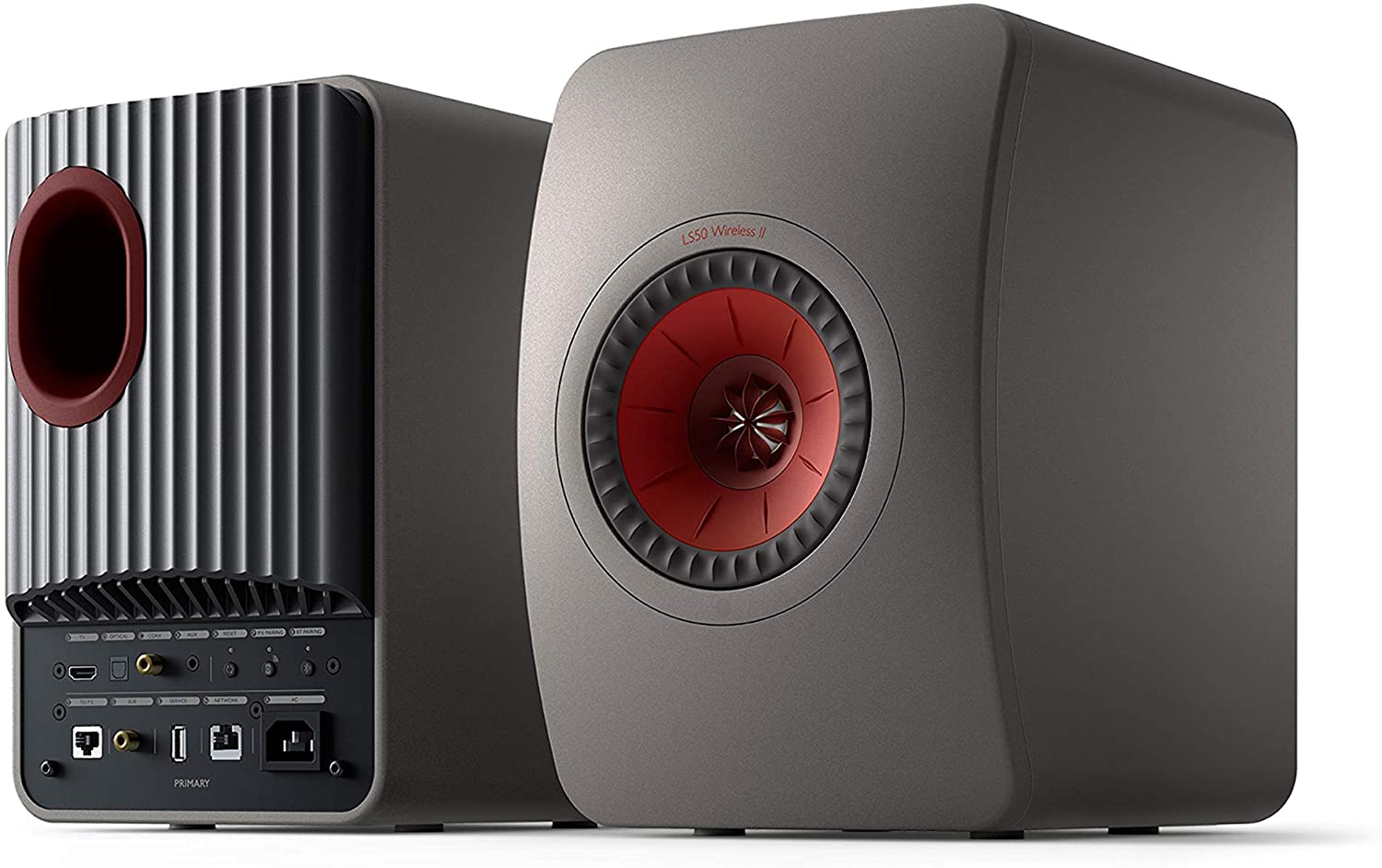 KEF LS50 Wireless II
For the audiophile music streamer
Sonos One
The best wi-fi speakers you can buy, hands-down
Pros
Superb sound quality
Dead-simple setup
Super easy to use
Excellent Alexa integration
Priced well
Cons
No threaded insert for mounting
No Bluetooth streaming
Why you should buy it: Hands-down the best Wi-Fi speaker for the money, the Sonos One is an affordable, great-sounding way to start building your whole-home Wi-Fi audio system.
Who it's for: Those who want the convenience of wireless sound with the benefits of a smart speaker.
Why we picked the Sonos One:
Followers of this list will know we've gone back and forth on this one. For a while, the Riva Concert claimed this title, but as we often do, we've revised that selection. As much as we love the Riva Concert's sound and excellent connectivity options, the company has failed to deliver a whole-home multiroom experience for its buyers. If we were contemplating using a Wi-Fi speaker on its own, maybe that wouldn't bother us so much. But whole-home audio is a big reason to go Wi-Fi in the first place. And no one does multiroom better than Sonos.
The Sonos One sounds terrific and pumps out the kind of room-filling audio that still turns heads. You also get your pick of Alexa or Google Assistant if you want to use it as a smart speaker (or keep the mic turned off — it's up to you). It also has AirPlay 2, which while not quite as flexible as Bluetooth, is nonetheless a huge win for Apple users who want to get better sound from their iOS devices. In fact, its lack of Bluetooth is our only real beef with the One.
The Sonos app is the key to this system. Always improving, Sonos sees itself just as much (or more) of a software company as a maker of impressive hardware. Through the app, you not only have full control of every speaker in your house individually or grouped together, but you also have access to just about every streaming service on the planet — more than any other wireless speaker system we've come across.
In addition, Sonos has introduced a recycling program for people who nonetheless want to upgrade some of these older products — offering to take them back in exchange for a 30% discount on a new product, regardless of the age of the older device.
We expect that an investment in a Sonos One will last far longer than money spent on other Wi-Fi speakers.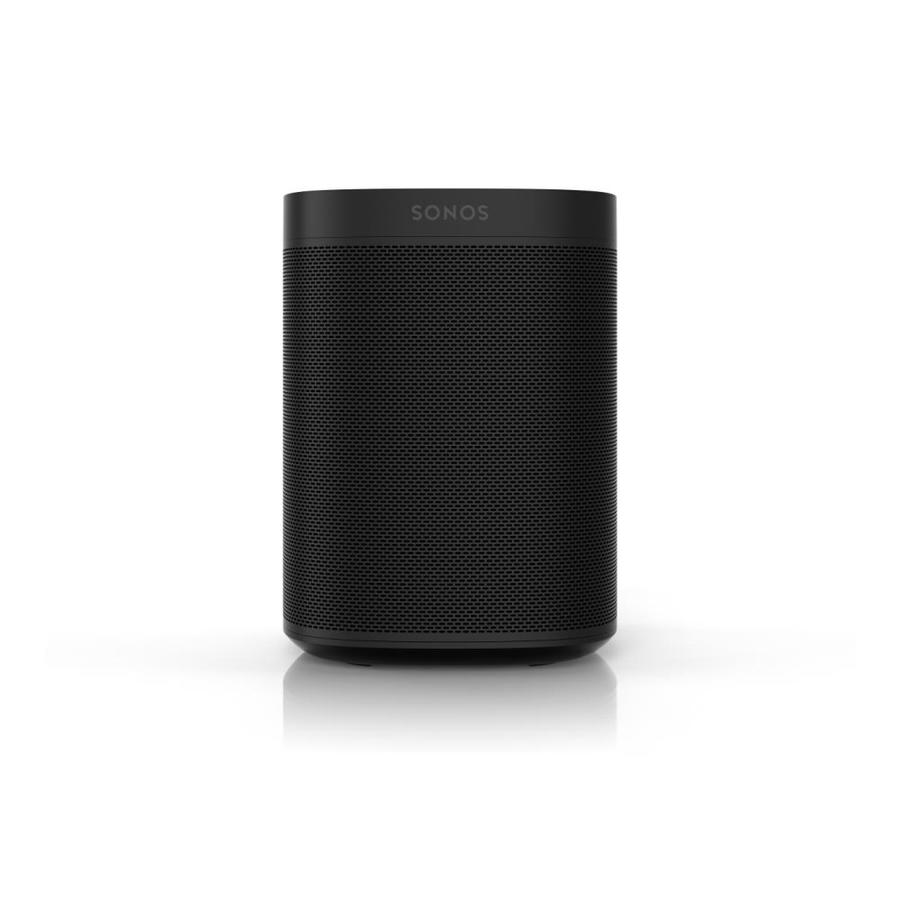 Sonos One
The best wi-fi speakers you can buy, hands-down
JBL 306P MkII
Perfect studio speakers for creators and musicians
Pros
Flat, revealing sound
Wide, dynamic soundstage
Elegant design
Affordable
Why you should buy them: Flat, studio-style sound at a very reasonable price.
Who they're for: Musicians, podcasters, videographers, and other creative hobbyists who regularly work with audio.
Why we picked the JBL 306P MkII:
If you're a content creator who works with audio, be it editing a podcast, recording demos in your bedroom, or producing YouTube videos, you need a revealing set of speakers with very flat frequency response to make sure your sound will translate well anywhere your listeners will hear it. While we'd have previously said JBL's LSR305s were the ticket, we'll be darned if the company didn't come out with something even better to get your studio gears churning.
Like their predecessor, the JBL 306P MkII offer the kind of sound signature you'd expect in a professional studio, but at a shockingly affordable price. This makes them an extremely useful tool with which to create. In fact, we like the second iteration even better thanks to a fuller 6-inch woofer, which offers a bigger bass response for even more accurate mixing than the previous 5-inch woofer.
That new 6-inch woofer (the middle size in the new line) combines with a 1-inch silk dome tweeter to provide a remarkable full-spectrum response on each side. And with improved waveguide technology, you'll get an even wider stereo image that allows you to pan your mixes with impressive detail. Volume isn't a problem either, with plenty of amplification onboard providing enough power to fill the vast majority of spaces, and certainly enough for near-field listening — which is what these speakers were designed for.
It's worth noting that, like the LSR305, the 306P MkII only have balanced XLR and TRS inputs, meaning you'll probably want an audio interface — an outboard component that typically has these outputs, as well as microphone inputs — to get your sound to them. Those interested in using the powered JBLs outside of home studios can do so with some RCA adapters, but an interface is still the best route.
If you're a creative type who wants to get the most out of your projects, the JBL 306P MKII speakers are tough to beat, ranking among the best value propositions in speaker land.
JBL 306P MkII
Perfect studio speakers for creators and musicians
Logitech Z906
Go-to surround sound for gamers
Pros
Powerful, loud sound
Sturdy, quality design and build
Great for movies, too
Why you should buy them: You want to fill your gaming quarters with pulse-pounding, dynamic sound.
Who they're for: Gamers who want an incredible sound system that lets them feel every gunshot and explosion.
Why we picked the Logitech Z906:
Headphones will always be a popular choice for gamers, thanks to the built-in mics that let you talk to your teammates in online multiplayer titles. But there are times when you want to put down the headset and let the sound surround you. Enter the Logitech Z906, a 5.1 speaker system that is all business when it comes to delivering an invigorating surround sound experience.
Have a ton of components? Not to fear. The Z906's media module allows you to line up to six of your favorite devices, ensuring you'll get blistering audio for every gaming system you own — 1,000 total watts of audio, that is. Best of all, this is no regular theater-in-a-box, as the Z906 can also tackle Dolby and DTS decoding for all of your go-to movies, TV shows, and whatever games support the two formats.
While perhaps a bit too bass-heavy for some, the Logitech Z906 system is the ultimate solution for any gamer looking to ditch the headphones in favor of speaker-driven firefights.
Logitech Z906
Go-to surround sound for gamers
Audioengine A2+
The best computer speakers
Pros
Clear, accurate sound
Low end packs a surprising punch
Beautiful, bold design
Multi-connection Bluetooth
Cons
Can be directionally sensitive
You'll have to keep an eye on battery life
Why you should buy them: Excellent sound quality, spiffy looks, and a solid set of features that will take your computer setup to the next level.
Who they're for: Headphone-weary computer listeners, jack-less phone owners, stereo speaker choosers.
Why we picked the Audioengine A2+:
You may not always want to put on a pair of headphones to jam out to your favorite tunes at your desk, and that's where the Audioengine A2+ come in. These are pretty dynamic speakers tucked into attractive enclosures, including a feature set that makes them a solid package for computer listeners.
For desktop speakers, Audioengine covers some key bases. With their 2.75-inch aramid fiber woofers, 3/4-inch silk-dome tweeters, and dual-class AB amplifier pushing 30 watts to each speaker, the A2+ speakers may come off a little modest, but they are more than capable of producing booming sound. You also have the option to plug in an external subwoofer if you feel the need to give the low-end a boost.
There is room for flexibility otherwise, too. Beyond the subwoofer output, you get analog and USB inputs, along with Bluetooth capability, the latter of which offers great codec support. With support for aptX and aptX Low Latency, you can stream music and games wirelessly with less lag. That makes the Audioengine A2+ prepared for virtually anything you throw at them. They're available in satin black, gloss red, or gloss white cabinets. For those seeking a little more size and power for their computer setups, the Audioengine A5+ should effectively scratch that itch.
Audioengine A2+
The best computer speakers
Klipsch The Fives Powered Speakers
Retro-cool soundbar alternatives
Pros
Stylish, retro look and build
Punchy bass, clear soundstage
Tons of connectivity options
Why you should buy them: The Fives are the best speakers to use as a soundbar alternative. Classic retro looks and plenty of tech delivering smooth sound.
Who they're for: Stereo speaker choosers, retro lovers, and audio purists who don't necessarily want a soundbar for their TV audio.
Why we picked the Klipsch The Fives Powered Speakers:
You probably want to upgrade those weak TV speakers, but you don't have to always do it by way of a soundbar. A stereo speaker setup, like the Klipsch The Fives, is made to be just that alternative, courtesy of a stellar set of features and options. With dedicated left and right channel speakers made with attractive materials means you can be pretty open in setting them up to fit your home theater decor. And because they're powered, you don't need to connect them to a receiver or amplifier source if you don't want to — they're loud all on their own.
Measuring 12-inches high, The Fives can fit in any TV layout, be it on a stand or wall-mounted. Since they use a different DIN cable, rather than standard speaker wire, you have 15-feet of slack to work with, though Klipsch says it may offer an extension sometime should that be too short. Inside, there are 4.5-inch woofers, 1-inch titanium dome tweeters, and custom amps pumping out up to 160 watts of power at full blast. You can plug in an external sub if you like, but you may not need it.
Connectivity options abound, starting with a phono pre-amp, along with HDMI-ARC for easy pass-through to a TV. Digital optical, analog, and USB inputs are also available. And on the wireless side, you get Bluetooth to go with all that, including support for aptX, aptX HD, AAC, and SBC. Klipsch's Connect app for iOS and Android includes a path to firmware updates and an EQ to tweak the audio. There's a lot to work with on these speakers, and that makes Klipsch's The Fives worth a serious look for TV speaker upgrades.
Klipsch The Fives Powered Speakers
Retro-cool soundbar alternatives
Kanto YU6 Powered Bookshelf Speakers
Powered speakers you can connect anything to
Pros
200-watt Class D amplification
Plenty of digital and analog inputs and outputs
A number of color options
Qualcomm aptX for Bluetooth streaming
Why you should buy them: You want a set of powered speakers that you can connect any source to — wireless or wired.
Who they're for: Those of us looking to prove that a set of wireless-friendly speakers can sound just as good as a pair of passive bookshelves.
Why we picked the Kanto YU6 Powered Bookshelf Speakers:
It's becoming increasingly difficult to find a solid set of powered speakers. Where one set might offer the design and performance you're looking for, there may be a missing phono preamp, which means no hookups for your record player. Or perhaps there are plenty of inputs to choose from, but the overall aesthetic is a bit too bulky. Thankfully, there are speakers like the Kanto YU6 powered bookshelves to satisfy the many needs and wants of hi-fi connoisseurs the world over.
Delivering 200 watts of Class D-amplification (that uses less power for more amplification), the Kanto YU6 have plenty of ways to wire your components, featuring RCA, optical, and 3.5mm inputs, as well as a subwoofer output, a built-in phono preamp, and passive speaker terminals for those of us that want to link these bad boys up to our A/V receivers. And the connections don't stop there!
The Kanto YU6 also use Qualcomm aptX Bluetooth to ensure everything you stream to the speakers from your phone or tablet sounds crystal-clear and robust.
From the 5.25-inch Kevlar drivers to the diverse range of color options you'll be able to choose from, the Kanto YU6 are the powered speakers you've been dreaming of.
Kanto YU6 Powered Bookshelf Speakers
Powered speakers you can connect anything to
Frequently Asked Questions
What is the best brand of speakers?
That's hard to say, as sound can be highly subjective. That being said, brands like Bose, Klipsch, JBL, Bowers and Wilkins, and KEF tend to be recognized as some of the best speaker names in audio. It also depends on what you'll be using your speakers for. The best home theater speakers may not show off a fine collection of jazz vinyl. On the other side of the token, you wouldn't blast superhero films through a record connoisseur's bookshelf set. For a more thorough look, check out our roundup of the best speaker brands of 2022.
What features do the best overall speakers offer?
It depends on what you're looking for in a speaker. Let's say you're after a great-sounding portable speaker. You'll want to look for a product that can handle the elements, and provide multiple forms of connection (auxiliary, Bluetooth, Wi-Fi, etc.), along with plenty of battery life for the times when you don't have ready access to a charging station. If you're looking for a dedicated set of home theater speakers, you'll want to focus on features like wattage, resistance, driver and cabinet materials, as well as aesthetic craftsmanship. After all, no one wants to own a premium set of hi-fi speakers that have no chance of blending in with home decor.
Who would benefit from having the best overall speakers?
While anyone will benefit from investing in a high-quality pair of speakers, it's the audio connoisseurs of the world that may reap the most rewards from a well-researched hi-fi purchase. Premium speakers have the uncanny ability to accelerate sound from the layers of an audio mix that many of us would not hear otherwise. Even the songs and albums you know front-to-back will likely shine in a different light when pushing the sound through a set of performance-driven flagship speakers.
How many watts is a good speaker?
Wattage doesn't necessarily translate to "quality." Wattage is merely a measure of how much power a speaker is capable of outputting. While a 1,000-watt speaker may be louder than a 100-watt speaker, what tends to matter most is the engineering that goes into the speaker as a whole, accounting for everything from cabinet to drivers, woofers, and tweeter(s).
Do higher watt speakers sound better?
Not necessarily. Yes, there are high-wattage speakers that pack quite a punch in terms of volume and sound incredible, but most folks will be more than happy with a 50-watt set of high-quality bookshelf speakers that focus more on design and engineering rather than pure power.
How can you improve speaker quality?
There are a number of things you can do to bolster the sound quality of your speakers. For starters, take a look at your listening space. Would moving a couch or chair benefit your experience? What about the speakers themselves? Typically, you'll want to try and triangulate your seating to place you in the center of the listening space, with your speaker drivers aimed towards you. Subwoofers are a whole different story.
If your speakers are placed on the floor, try and place them on shelves or speaker stands. Bookshelf speakers will often sound better when matched to your ear height when seated.
There are also a number of EQ options you can probably play with on your A/V receiver or stereo amplifier. Open these menus up and tweak things like speaker size, decibel output, and sound formats to see if it makes a difference in the final sound.
How can you tell speaker quality?
Everything from size, cabinet/driver design, power handling, and frequency response goes into what makes a top-tier speaker a top-tier. Typically, offerings from dedicated audio companies will be the better choices, but there's a host of incredible speakers produced by TV companies and other electronics umbrellas. Ultimately, the final word comes down to what you think. Wire up, sit back, and soak in the sound.
Do speakers support Wi-Fi? Bluetooth?
Yes, many powered speakers support Wi-Fi and Bluetooth. Just make sure that you check the specs and consider device compatibility before you purchase.
Can I buy good speakers with Alexa, Google Assistant, or Siri support?
Yes, absolutely. Google Assistant and Alexa are supported by a growing collection of smart speakers, portable speakers, soundbars, and receivers.
Do I need a subwoofer with my speaker setup? Will it come with one?
That depends. If you are in a small space, we don't recommend it, but if you're looking to make a small pair of speakers perform better with hip-hop, dance music, or for more cinematic sound, we recommend considering a good subwoofer to reach the lowest end of the frequency spectrum. Most pairs of speakers do not come with a subwoofer unless indicated, but most soundbars do.
Do I need an amp with my speakers?
Unless your speakers are powered, you will need some form of amplifier to power them.
Will speakers accept USB input?
Some powered speakers do have USB inputs to support digital music — just make sure to check the spec list if this is desired.
Will speakers accept a 3.5mm input?
Most powered speakers do offer a 3.5mm input. Most amplifiers and receivers offer an RCA input, but you can use an adapter to easily connect a 3.5mm source.
Will speakers work with any receiver?
Technically yes, but you'll want to make sure that the impedance matches, and you might want to consider a larger, more powerful amplifier for larger speakers. As a general rule, it is usually better to have too much power than not enough (although you'll want to be careful to make sure you don't damage your speakers).
How we test speakers
We test speakers the way normal people live.
We run every speaker through a rigorous process over the course of several days or weeks. That includes playing them in all sorts of scenarios, be it in the listening room, computer room, or at the office, and playing back from our device library, CDs, vinyl, and streaming services like Spotify.
For wireless speakers, we also test range, connection stability, and interference in areas with a lot of radio frequency interference (i.e. the Digital Trends offices). For non-powered speaker models, we listen via a variety of amplifiers, ensuring we have a good idea of what each model is doing given different power and sources.
Finally, we compare each speaker to some of our go-to models, both in their class and price point, as well as a level or two above to find out if they can punch above their weight. This ensures that we are putting them in perspective with the larger industry, and also cements the way that we think about the price-to-performance ratio of each speaker we test.
Editors' Recommendations